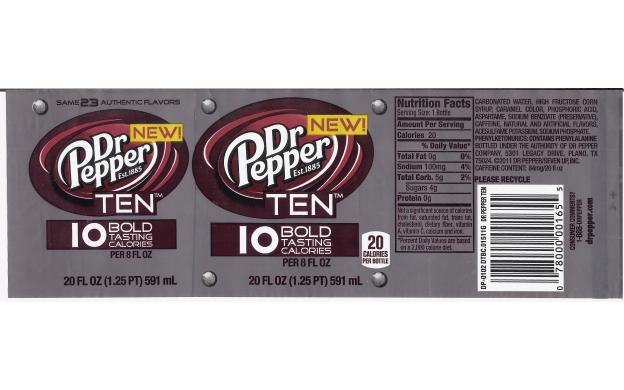 May 28, 2012

Math mistake, or FDA rounding requirement?
10 bold tasting ones and 10 really sneaky ones.

Who is doing the math for Dr. Pepper? What did they do wrong or are we missing some information?

What's the deal with the calorie count?

Which 10 of the 20 calories taste like regular Dr. Pepper?

20 oz = 20 calories. Why do 8 oz. contain just 10?

How do I convert the volume in this bottle from ounces to pints to milliliters?

10 calories or 20 calories? Serving size is posted but last I checked 20 fl. oz. = 2.5 * 8 oz., so shouldn't the Nutr. Facts read 25 cal.?

Shouldn't it be 25 calories? What genius is working at Dr. Pepper?

10 calories per 8 fl oz, but 20 calories per 20 fl oz bottle? How can that be?

Why is that kind of labeling legal?

20 calories per bottle yet 10 calories per 8 oz? Not sure I understand the relationship. What is correct?

So is it 16 oz. or 20 oz.?

Why don't we get some promotion with a bang for healthy things?

Why is it called Dr. Pepper 10 if it has 20 calories per bottle?

Where did the extra calories go?

Why do they market this to men?

How many calories per ounce?

Who came up with that marketing ploy?

Why is the amount of calories not proportional?

How many calories per oz? How many per mL?

how many calories in the case?

What do the other ten calories taste like?

Why 10 calories and not 5?

How can 20 oz be 20 calories when 8 oz are 10? Who did the math?

How did they get 20 calories? Shouldn't it be 25?

why is the picture on there 2 times?

If there are 10 calories for every 8 ounces, than how can there be only 20 calories in a 20 ounce bottle?

What made the bottle add the extra message?

10 calories per 8 oz? This bottle is 20 oz. So HOW can it only be 20 oz in a bottle?

How many ounces in the bottle?

How many calories in each bottle are NOT bold tasting?

Does a drink really need to be bold? Does that mean you have to catch it? Or is it going to catch you?

If the box says "10 bold tasting calories," why does the nutrition label say there are 20 calories in 1 serving?

which number is accurate?