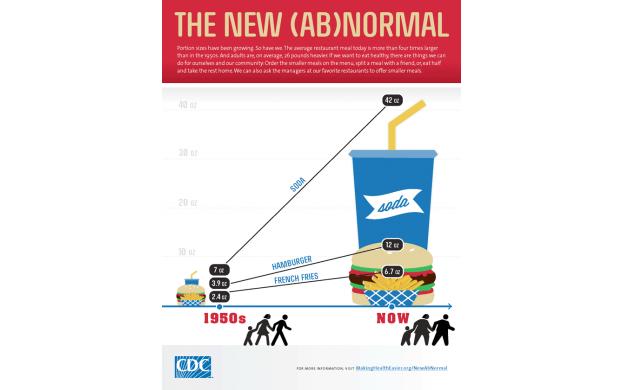 May 24, 2012

How much has the calorie risen over the years?
How disgusting are fat Americans?

Will that trend continue?

What is the percentage increase in the size today?

Are those diagrams fat enough?

Was food really that tiny in the 50's? Are the diagrams properly scaled (volume vs linear scale factor)?

Do we have correlation or causation? Do bigger people cause bigger meals or bigger meals cause bigger people?

Does this advertisement fairly and accurately represent the data?

How large are these portions going to get?

Why such an increase? How many times greater is that?

What is the the average increase in serving size?

What's the percent change?

Is the picture in proportion to the percent increase?

Is the growth actually linear? If so, will it continue? I want more than two data points for each relationship!

How many more oz does a person eat today?

How does this compare to obesity rates?

Which product has increased the most?

Does the increase in soda size have any correlation to the fat sizes of people?

is the relationship linear?

Why are we surprised Americans have a weight issue?

does larger serving size lead to larger customers ?

What is the percentage increase in serving size? Great use of infographic!

What else has gotten bigger?

Why is soda worse since it has less fat?

What is the percentage increase for each of the food items?

Do you think the government has a role in regulating serving sizes?

What is this graph about?

How much more fast food do we eat now?

Why aren't we smarter about our diet?

How large will a soda, burger, and fries be in 2050?

Is the percent increase consistent?

How many more calories is it now vs. then?

How much has weight increased?