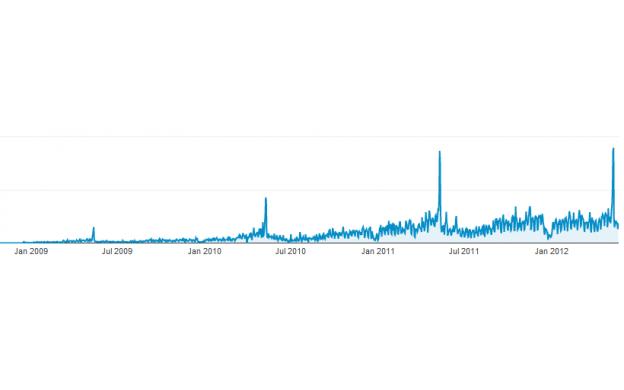 May 21, 2012

How many IB Physics students visit Hank Stevens' IB Physics wiki in preparation for their finals?
Google trends? What is the search term?

What is being graphed, and why does it spike once a year?

Let me guess, number of hits for "Memorial Day" on google.com? People seem to be getting more patriotic every year.

What's going on in May or June? What is this measuring?

Why are there peaks every year in may?

What is it that keeps peeking in May/June

What's setting off the server load?

What keeps spiking before July every year and has a valley around new Year's?

What would cause a graph like this?

What do the spikes represent? (Really intriguing.)

What is peaking in this graph in the late Spring/early Summer?

What is causing the late May/June spike?

What is the prediction for 2014?

What does the graph describes? What happens at the peak?

Is this a chart for the stock market or the economy?

hoe groot wordt dit uiteindelijk

How do I get my hands on this stock?

How much have gas prices risen in the past 3 years?

What are the spikes representing?

What are those spikes from?

What do the peaks and dips represent?

If there's an extreme peak in ~May, why is there a small valley around January each year?

What happened before those spikes?

What site/server is getting this traffic?

What is happening in June?

What event happens before july?

Why is there a spike every June?

What causes the peaks in web traffic?

What happened when it spikes

Why does the server traffic spike there? And what/whose web server is it? (IRS? TurboTax?)

Why is there a spike in June?

What data is being tracked and why does it spike before July?

How much does the value increase from January 2009 to January 2012.

What annual event could cause a spike in internet usage?

What is special about May and the rate of internet traffic?

What happened on those days to see a great spike in visits?

What is causes traffic to spike in June of each year?

What is causing the spikes?

What is the graph showing?

Is this a graph of planetary consciousness of the summer solstice?

What could this graph be showing?

What happened at the peaks?

What term is being searched?

What's happening at the spikes?

Is this an increase in energy use?