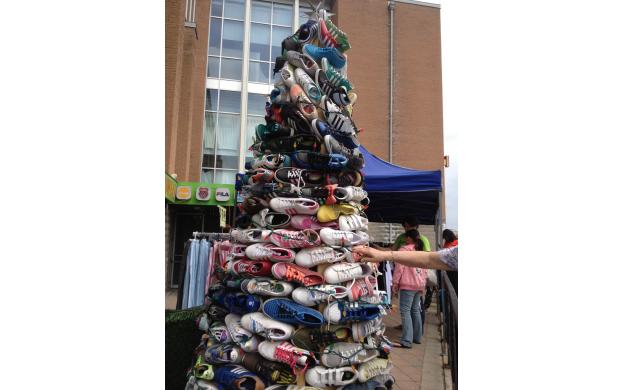 May 14, 2012

What is the probability of picking a shoe off the tree that is size 9?
What does this smell like? Are there shoes in the middle?

How far would the shoes stretch out in a line toe to heal?

How many layers of shoes?

No glue? How tall could you go with shoes before the bottom layer crushed?

how many shoes in there? is that thing filled with shoes?

Is this construction made entirely of shoes (no open/empty space inside the conical figure)?

Does that make it a 'pair' tree?

If all the people, whose shoes are shown, were to lay head to toe, how long would it be?

Is it wrong to feel glad that my wife's shoe collection has finally got some real use?

Estimate the number of shoes total in this cone.

Why does this remind me of Christmas?

How many shoes did it take to make a tree?

How many shoes are in the stack?

Do the shoe sizes decrease as the pile gets taller?

How are they all attached together? How tall could you make it if you used all the shoes owned by all the students in class?

Is the tower being held together with glue? How did you make this?

How crooked can the tower get before it collapses?

what is underneath the shoes?

What is keeping the shoes together?

How many shoes? Are there pairs? Are there an even or an odd number of shoes?

Most efficient way to calculate number of shoes?

What would be the volume of this tree?

Do any of those sneakers have matches?

What is in the core holding it up?

Why is one guy pulling on one of the shoe laces of the shoes in the middle?

What is the volume of the pyramid?

Are there more lefts or rights?