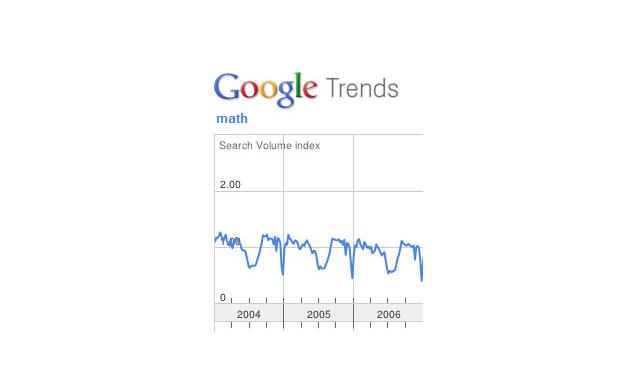 May 12, 2012

Why the repeating pattern?
I guess nobody digs math in the summer. The downward trend is a bit unsettling. What gives?

What's the cause of the dip? Is that the summer months?

What does the scale represent?

What is causing the minima in the graphs?

HAHA! Spark notes is another revealing trend. What do the dips represent? (Also search chocolate!)

Why is the search volume going down in repeatable patterns?

Why does the overall trend seem to be downwards?

Does this represent times of the year and the valleys are summer and winter break?

What function best fits this curve?

do the dips correspond to summer and winter break?

When is the lightest volume?

How can you explain this graph?

What are the units of the y-axis?

Who do we think is searching "math" at these times?

Is there an overall decline in searches for math?

Are those dips the summer?

Are the dips in matching summer months when school is out of session?

When will Math be cool again?

Why does the frequency drop down at the end of each year? How much does it drop down?

why is it being searched less in the summer and in december?

What happened on Decmeber 31 in 2004, 2005 2006

what's the volume index in 2013?

What is the dependent axis representing?

Why does this seem to have a repeating shape? What affects the shape of this curve?

Why is there a drastic change every year--when season does the change come?

Why are the scores slipping down?

summer vacation is in june/july and triggered the lower volume?

Does this mean people don't search for math at Christmas and during summer?

Are those the summer months when kids aren't in school that dip down low?

what are the search terms?