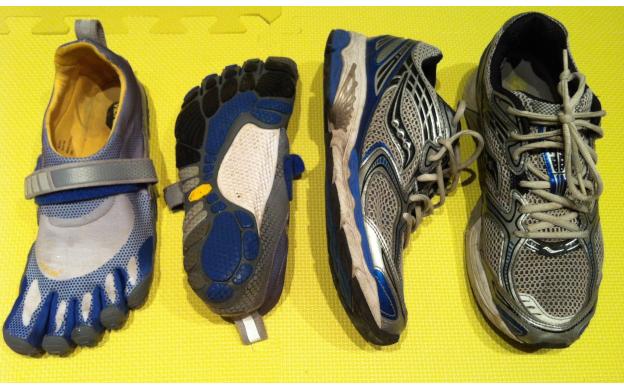 May 11, 2012

What is the price difference?
Are these all the same size?

What is the benefit of "barefoot" shoes?

Which shoe is better for running?

Do these shoes fit the same person?

How can we measure which shoe is better for running?

Why do people wear those things?

What is the cost per ounce of these two kinds of shoes?

Assuming the same "shoe size," what's the difference in shoe volume?

How many kilometers or miles were completed in these shoes?

Why are Vibram Five-Fingers so creepy?

What kind of runner is this person based on their footwear?

Which shoes can you run faster?

Which shoe gets more miles before falling apart?

how would you measure the difference?

Which transformations are shown here?

What is the rate at which each type of shoe is replaced?

Why are the shoes turned different ways?

Do these fit the same foot?

Will wearing one shoe make you faster than wearing the other shoe?

What does this have to do with math?

How far did the person run?