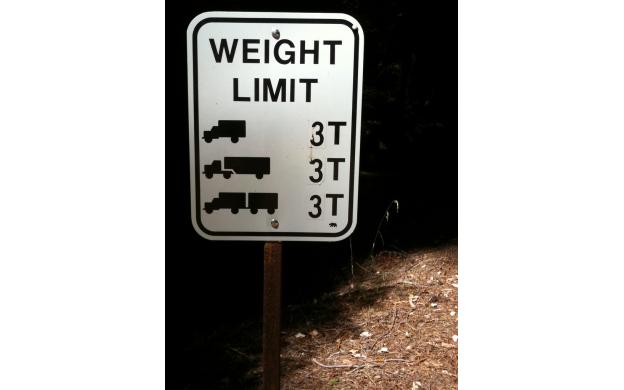 May 11, 2012

So... 3 tons?
How much weight is distributed on each tire for each configuration?

Why do we need 3 pictures?

how full will the last one be with 3T in it?

Why doesn't the sign just say "WEIGHT LIMIT 3T?"

why make the different categories??

How empty would each truck have to be to all weigh 3 tons?

How can you distribute 3T throughout the different trucks?

What is the difference in weight of the three types of trucks when they are empty?

Why is the weight limit the same for each truck?

Why are 3 different pictures of trucks needed if each has the same weight limit?

What's the weight limit? OK, really, for which bridges are those three different?

What is the maximum amount of pressure that is allowed to be exerted on this bridge by any vehicle?

Why does the sign show three different pictures when all the weight limits are the same?

Why doesn't the weight limit change? Shouldn't it really be a pressure limit, and wouldn't the pressure be lower with more wheels?

What if more than one truck is on the road?

How are there 3 different size trucks that can all weigh the same amount?

Why put all of the trucks on the sign if the weight limit is 3 tons anyway? :)

What? Why didn't they just make a sign that says 3"-ton weight limit"?

Why are they all the same things

Why the same weight? Is there a bridge?

How does the truck's trailer size impact the weight differential?

Why is the weight limit the same for the different number of axles?

Denzel's response was... What are the weight limits for?