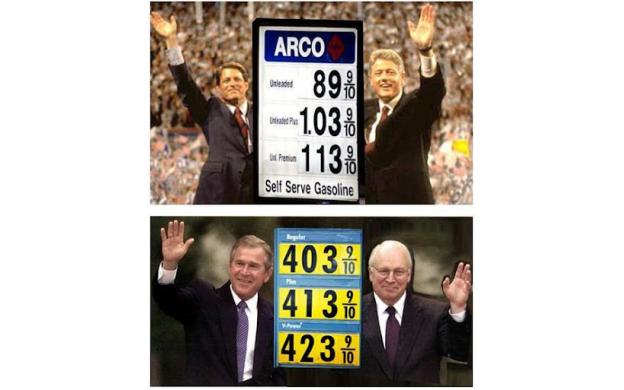 May 09, 2012

What was the inflation rate of the price of gasoline between these two presidencies?
Have gas prices increased faster than inflation? Why?

I sort of remember this. If the relationship of time to gas price is linear, when was it $0 per gallon?

Did Cheney get his pulse back?

No question. But a really interesting image.

What are the prices in constant, inflation-adjusted dollars?

What is the percentage increase? What will gas prices be in 2020?

Has the increase in gas followed inflation?

what portion of the increase is just due to inflation?

How many years passed between those increases?

Inflation? What is the rate of growth?

what is the price change?

Did other prices go up this much

What is the average rate of change in the price of gas from Clinton's election to Bush's leaving office?

What were prices during dates between these two pictures?

Why do gas prices change?

What will it be by the end of the Obama regime?

What is the difference in prices, adjusting for inflation?

Shouldn't the words "self serve" be moved to the picture on the bottom?

What is the percent increase?

What is the percent change in gas prices?

How much did gas go up per year? Is gas political?

Why is Clinton on the right and bush on the left? That just doesn't make sense.

How long has it been since gas was 89 cents???

Which grade had the smaller percent increase?

How did gas prices change?

What in the world happened to our economy?

How partisan is this picture? How much did gas increase over 8 years?

What is the average yearly inflation in gas prices?

What is the range is prices for each picture?

Did all prices increase by the same percentage?

What years are those numbers from?

What ever happened to full service gas stations??

Have they all increased by the same proportion ?

How many years did it take to increase the gas price that much?