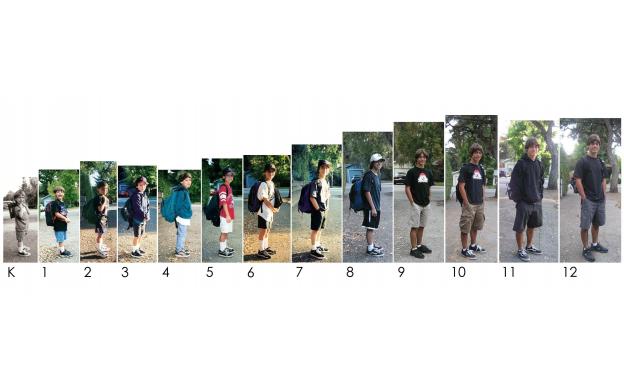 May 09, 2012

From dittidot, http://www.reddit.com/r/pics/comments/tdwmu/my_son_is_away_at_college_now_but_for_13_years_we/ what were the years of greate
Does height grow linearly?

If he kept growing at this rate, how tall would he be when he's 20?

Did the other kids pick on him when his parents took his picture? Is he done growing?

How much did the kid grow each year? What's the pattern?

Why are the high school versions hiding their backpacks?

How does height change over time?

how tall will he be as an adult

Were the photos all taken from the same distance and angle?

Very cool! Is the growth linear?

What is the average increase in height, weight, shoe size over 12 years?

How tall will he be at 18?

Is growth over time linear? How tall would he be at 50?

How old will he be next year? When he's 60?

How could we work out his height, given his age?

Nice - when is growth the slowest and fastest

Is height growth over time linear?

Why, on the only day he wears long pants, is his bar shorter?

How many different ways could you arrange these students in a line?

During which years did he grow the most?

What's percent change each year?

How big will he be in the next few years? Are the pictures all the same zoom?

What is the average rate of growth?

How tall when he was born?

When did he grow the most?

Function that describes height vs. grade?

Wow, you must live somewhere real hot?

How fast does he grow up?

Isn't this like the evolution of the modern man?

why do i love this so much

How much did he grow each year?

How much is he growing per grade?

His tallness is being compared, but why in order?

During which grade did this person grow the most?

How many inches has he grown every year?

Was each photo taken the same distance away?

Is he growing at a steady rate?

Can you come up with a function that models height?

Is this the same child as he grows older?