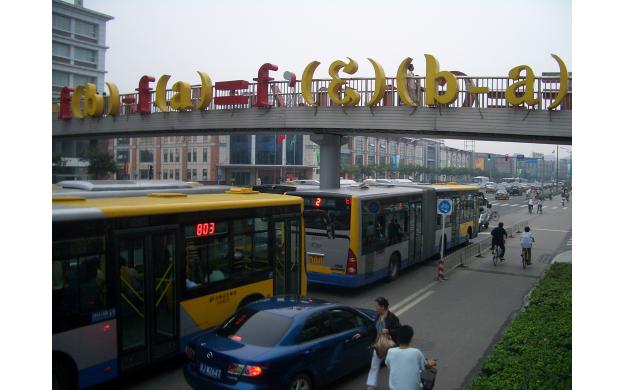 May 07, 2012

How big is the letter epsilon?
What is the significance of that formula?

What does the curly E mean? Is it true?

What is this a function of?

I want to go to there. What theorem is this? Why didn't they mark the 'epsilon point' on the bridge?

What equation? Where is this?

Where do they care so much about derivatives? Cannot be in America! And what Greek letter is that?

Really? Translate for me.

What is that the function of?

It's mean-value theorem in what city today? (Actually, I looked it up: Zhushikou Dong Dajie in Beijing.)

What is the highest clearance of the bridge?

Does the equation work with all numbers?

What is the significance of the equation over the bridge?

Is the car meant to be in that lane?

What does the equation mean?

The #2 bus averaging 30 mph leaves the station 20 minutes after the #1 bus which is averaging 25 mph. When will the #2 bus catch the #1 bus?

What would be a better deal a double the radius pizza or double the sector angle

Where is this absurdly awesome bridge???

What does the equation solve?

Where is the world is this place.