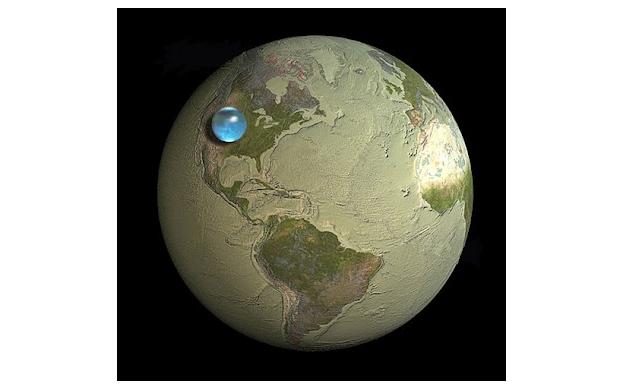 May 07, 2012

How much water is in that ball? How wide is the ball?
What is the proportion of the big, Earth-looking marble to the little one?

Is that what all of Earth's water would look like if you put it into a sphere? Very cool.

How do the volumes compare?

Is Nebraska that important?

What is the scale factor for the globe

What percent of the water sphere does the United States (alone) use each year?

Is the water sphere the right size proportionally?

Why does this picture keep popping up?

enough to fill the oceans?

What does the blue dot represent?

volume of water: volume of earth = ?

What is the ratio of volumes of the spheres?

Is that all the water in the world?

What does that bubble represent? The water in the ocean? How deep would it cover the US if you spread it out?

How many miles does the radius of that marble represent?

What is the blue bubble for?

Why is there so little water on other planets, when there is so little on earth?

How big would the ball be in real life?

That's not much water, is it?

Whats the area ratio of blue:earth:black?

How many people are crushed by the marble?

How many would cover the entire earth?

What is the size difference between the blue sphere and the earth?

Why is the marble on the United States?

How big is the area the dot is covering?

How much area (not scaled area) is the marble covering?

is that all the water on the globe in one place?

What percent of the US is covered by the blue ball?

Is that all of the world's water in a sphere? It seems too small. Is that all the water in the US? It seems to big. What is that blob?