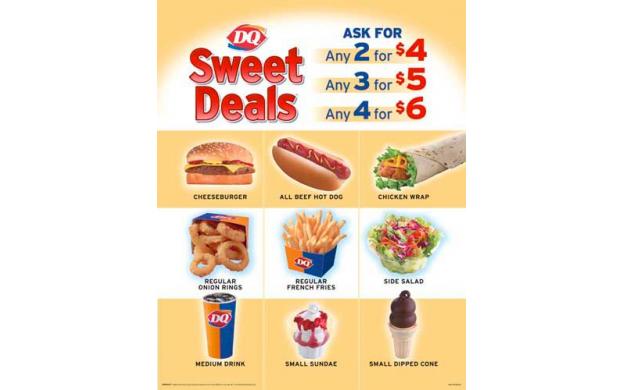 May 07, 2012

What can I buy for $20?
How much do you save getting four instead of two?

How much are you saving by purchasing any 4 for $6?

If you had $23, what could you buy?

What is the baseline cost DQ is charging?

How much is one item under each plan?

How many calories do I get for free?

Which "Pick any 4" would give me the most calories? The fewest?

What combination gives you your best deal?

Which is the best deal for one item?

How many $6 meals are there?

How much would it be for five items?

How many combinations of 2, 3, and 4?

Can I have some Icecream?

Why is DQ trying to use my frugality to make me fat?

What if you wanted to get 7,000? (in order to feed all the starving kids in congress)

What do the items cost individually?

What percentage are we saving?

How many items should you buy to get the best deal?

How many different kinds of meals for each price? Are there more combinations with at the higher or lower prices? Can I have 2 sundaes?

What are the sizes? Which is the best deal?

How do they make a profit?

What is the best deal of the sweet deals?

Where's the profit for any 4 for $6?

How much does a calorie cost?

which of these are actually good deals?

Which deal is best value?