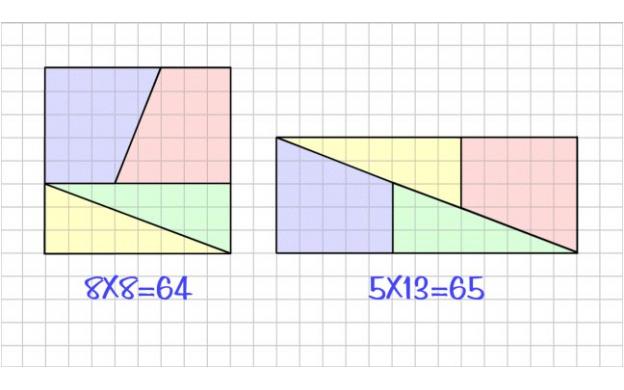 May 06, 2012

What's wrong?
What the heck is going on here? How can that be? This blows my mind.

Are those the same shapes each time?

How could this even make sense?

what are the areas of each individual shape

Where's the missing person?

What happened to the 65th square?

Why aren't the areas the same?

How does this trick work?

what other questions are there that we can use slope difference for?

how are they different areas?

Why are they different amounts?

How? What am I missing on this? (I'm intrigued)

Where'd the extra square unit come from?

How can we explain the difference?

Are the individual shapes congruent?

How accurately are these diagrams drawn?

Where is the extra unit from?

How can congruent pieces be arranged to form different areas?

is it mathematically possible?

Are the dogs going to like a square or rectangle to run around in?

Assuming all each colored shape is the same, where did the extra unit come from?

Where did the extra square come from?

How is this mathematically possible?

WHich shape has increased in size?

What is the combined area of the purple shaded space?

What is wrong with this picture?

How did four congruent figures combine for 2 different areas?

What fraction of the entire paper is blue?

What is the ratio of the areas of each corresponding colored figure?

Are the pieces exactly the same in each?

Can you get another area with the same shapes?

Are all of the figures congruent?

Which pairs of different colored shapes are equal in area?

What happened to the square?

How can the same decomposed areas give two different composite areas?

Do the tops of the green and purple regions in the right figure have the same slope?

Can a rectangle cover the same area as a square?

How many triangles are in each figure?

How do they have the same area?