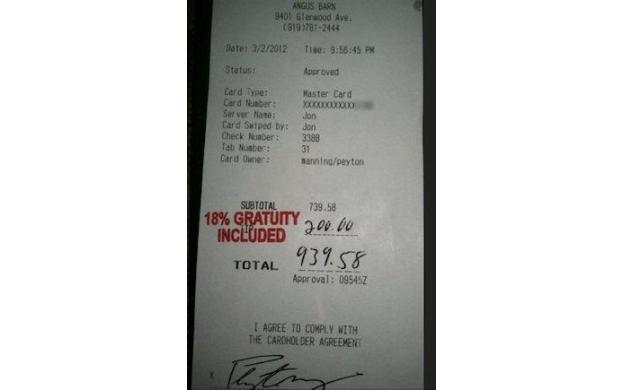 May 06, 2012

If a 18% tip was added to the bill before the extra tip was added, then how much was the meal?
What total percentage gratuity was actually given?

Did this person give the correct amount of gratuity?

By what % was the waitperson overtipped (above 18%)?

If the gratuity tax was less than 18% but the total was slightly more, what could the before tax amount be?

What's the total tip? And how many people ate?

What percent tip was left? And, what type of beverages were included in that bill that caused someone to leave that tip?? :)

What percentage of tip did they actually leave?

How unlikely is it that 18% is really $200

What percentage did this person tip?

Did you buy the whole cow?

What is 18% of 739.58 or how much the meal and drinks cost?

Good grief! How many people ate on that tab!?

What percent did they really tip?

What percent did they end up tipping?

Why did they tip so much?

did you have to add any tip on the bill?

What is the overall gratuity percentage?

How many people in Peyton's party, and WHAT did they order?

What is the final tip percentage? How many steaks did it take to get to a $900 meal? (Hopefully more than one?)

What the heck did you eat???

What did the waiter do to deserve such a big tip?

How much was the total tip?

How many people ate for the bill to be that high?Why add the tip if gratuity is included?What was the bill before the 18%?

Oh my word! What did they order?

How much was each person's dinner plus tip?

How much was the original bill?

Is this a correct gratuity?

Why did this person tip again if the gratuity was already added in?

Why are they giving tips if gratuity is already included?

What have they bought which is so expensive?

If 18% gratuity was already added to the bill, and then another $200 was given? What was the total percentage of the tip?

What percentage tip was added?

What percent is that tip if you include the 18% too?

what was the total BEFORE the 18% gratuity was added ?

What percent tip was finally paid?