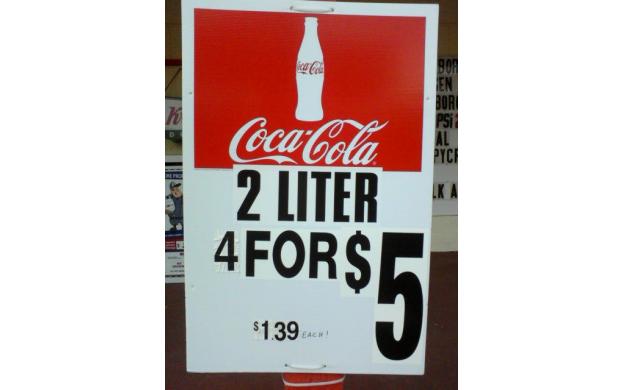 May 06, 2012

If Wal-Mart is seven miles away and they sell 2 liters for $1, then should you buy them here or there?
Is 4 for $5 a better deal than $1.39 each?

Is 1.39 a better deal than four for five?

Is the discount really a discount? How much?

Is it 4 two liters for $5, or $5 for 4 liters?

Who needs 8 liters of coke?

How much more do they make if bought singly?

What percent do I save by buying in bulk?

How much cheaper is it to buy 4?

Is that a deal? How much of a deal?

Which is the better deal?

How much cash is that saving me?

Do you have to buy 4 in order to get the discounted unit price?

How much do you save buying 4?

How good of a deal is it?

Does that deal save any money?

How much do you save if you get the deal?

How much money are you really saving?

What is the savings per liter?

How much is each bottle of Coke?

How much money would I save if I bought 4 bottles?

How does the unit price, when buying 4, compare to the unit price when buying 1?

Is this a good deal? How much are we paying per liter? per mL?

How much is one liter of Coke?

Why Coca Cola? Why is it for 2 Liters? How much do people save?

How much can I buy for $17?