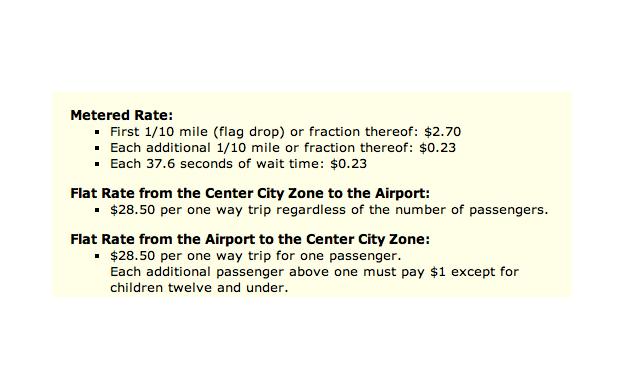 May 03, 2012

When is the flat airport rate a good deal?
Are the airport prices fair?

At what point does the flat rate become a better deal?

So many questions. How much will it cost to go 15 miles in rush hour traffic?

At what point is the flat rate a better deal?

There are break even points for flat rates?

Why 37.6? That's awfully darned arbitrary.

Your cab ride cost came to $50. Write a story that describes why the cost came to that amount.

What is the best deal to go to the airport?

When is the break even point?

what method is cheapest for 1, 2, 3, 4 people and so on?

Why is it less expensive to the airport?

At what distance does the Flat Rate become a better deal?

Under what conditions would the flat rate be a better deal?

When would it made sense to choose each rate? Distance and # of passengers?

how far would the center city zone need to be to have the same flat rate and metered rate?ps: twelve OR under

How bad is traffic today?