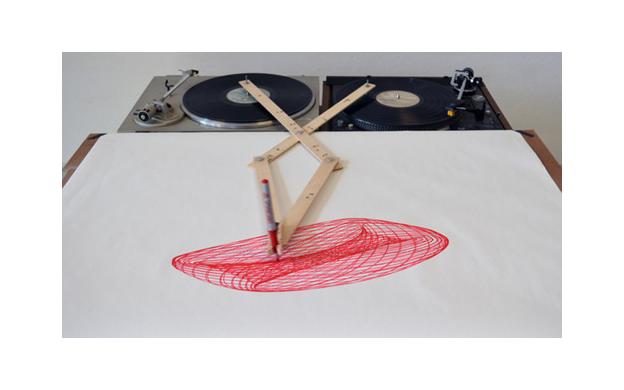 May 01, 2012

What equation satisfies that turntable function?
How does this work? Is the speed of the record important, or will any speed work?

It looks like a face! How did they come up with that idea. Are the record players running at different RPMs? And what's a record player?

What sort of a picture would three record players make?

what kind of surface is that?

What were the records worth before they were destroyed?

How does the location of the needle affect the designs produced?

Where could you put the arms to make circles?

If I move the location of the pin on the records, how does that affect the shape?

Do you get a different pattern if you use 45s?

How will the design be different with smaller/larger records?

How does the picture look different when the position of the sticks moves?

What happens to the shape if we change the location of one of the arms?

Four bar linkage - very cool

Okay, that's awesome. How many record players could we hook up? How would the shape change?

How long until it repeats the design?

How can you modify the setup to get a different picture?

How would the picture change if we moved the pegs on the records?

How does the pattern depend on arm attachment, rotational speed, etc? Who is this genius!?

Will the design change if one of the record players has its speed changed?

What is the expression that show the action of the turn tables?

What shape does this machine make? Is it symmetrical? Where is the axis of symmetry?

How long before it repeats?

Do you have to ruin the LPs to make something like this?

How fast do the records turn

what happens when differnt speeds on the turntables result in different figures

How long would it take for the pattern to repeat?

What happens if we change the length?

If the rulers were not attached at the point across from the pen, how would the shape change as the records play?

How fast were the records turning?

Does the song playing on the album(s) matter?

what does mucis look like?

How is that design generated?

What kind of designs can it make?

How many revolutions until all possible area has been marked?

How did the machine do the shading?

Which one is turning faster?

Are both turntables turning at the same speed?