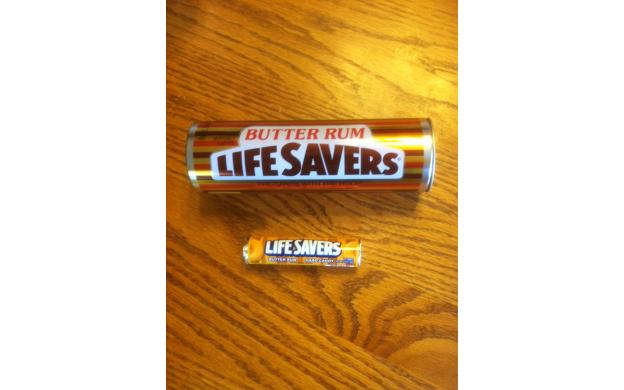 May 01, 2012

How many regular life savers fit in the big tin?
If I'm into butter rum, which is the better deal?

How heavy is each life saver?

Why are the butter rum lifesavers so much bigger?

How long does it take to eat one of the big life savers?

Ew. And also, how many calories in a big life saver compared to the whole pack of small?

What's the % of alcohol in each pack?

How many more mini lifesavers equals one regular one

How much longer will the giant Life Savers last in one's mouth?

How many life savers fit in each?

No question, but I am intrigued by the scale difference.

Is that a giant roll by a normal roll or a tiny roll by a normal roll?

How many normal-sized lifesavers would fit in the bank? Or, how much bigger would the big lifesavers be than the small?

Compare the sucking time for each size of Lifesaver. (always hated butter rum flavour btw)

How much more do I get if I buy the larger tube than if I buy the smaller?

How much less Life Saver?

Which ones are normal sized?

How much bigger is the butter rum than the regular life savers?

Are the similarly proportioned?

What is the scale factor? What is butter rum? How many total life savers?

Who actually likes butter rum?

What percentage of the big one is the small one?

How much more life saver do you get?

How much would you charge for each package?

How much more LifeSavers do you get in the larger one?

How much more Lifesavers do you get for your money?

How much smaller is the little package?

how many packs of small life savers would fit in the big pack?

are there large lifesavers in the larger package

What is the ratio of small rolls to large?

How many times larger is the big roll

la proportion entre les deux

How many time larger is the Butter Rum package?

Where can you get butter rum Lifesavers?

What is the ratio of the sizes?

which one is the "regular size"

How much larger are the butter rum life savers?

How many lifesavers are in each roll?