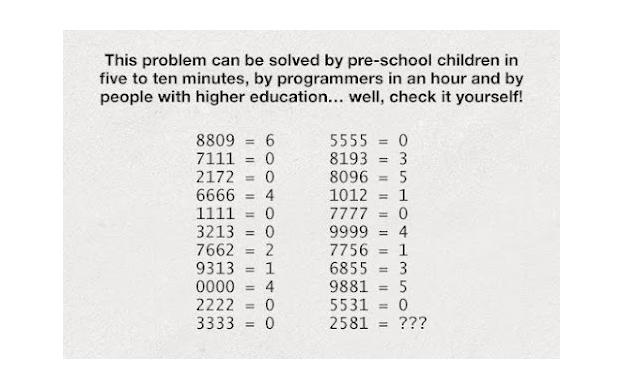 April 30, 2012

What does 2581 equal?
Is it 2? Cool idea. But I really don't think a typical pre-schooler would get it fast than those others.

What the heck does it mean?! What's the pattern?

Gotta admit. I'm intrigued. What's 2581?

What's the value of 2581?

How many "circles" are in each number?

how can we train our students to think outside the box?

Or by actually smart people who take a few seconds.

Based on the statement above the "problem" I am guessing it is less mathematical and something else.

Why do we care about the number of loops in a random set of numbers?

How long will it take me?

Love it. How many people simply give up? (The answer is 2, right?)

I wonder what the distribution of solution times looks like? Bell-shaped, skewed left, skewed right?

How many circles in each string of characters? Took me less than five minutes. (Two, btw)

Why do my students have so much glee keeping the answer from me?

Why did they use an 'equals' sign when there are so many other wonderful symbols available?

What does 2581 equate to?

What should be the first step in solving this question?

Can it be reasoned more than 1 way?

don't programmers have a higher education?!

Why does it take programmers so long to solve this?

How can a preschool child solve a pattern problem more quickly than an adult with a college degree?