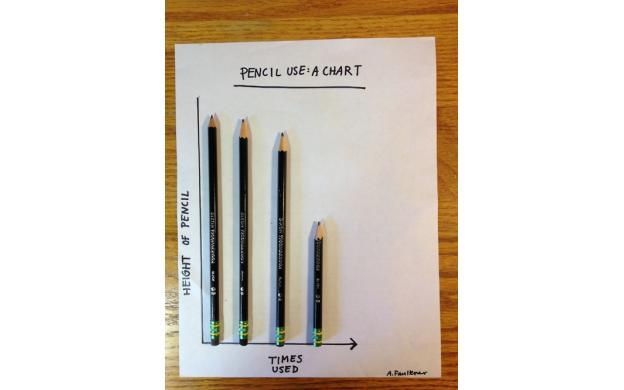 April 27, 2012

Shouldn't this be linear? What's the actual slope/index the independent axis?
Is that accurately spaced? Have you accounted for broken tips? Why isn't it linear?

How long does he use the pencil per time? When will the pencil be down to a nub?

How much did you use it each time?

What are the scales on the axes?

how long are they used for each time?

How much does a pencil shrink after one use? (write until dull & sharpen again)

Is the smallest pencil in the correct spot?

Is the horizontal scale logarithmic?

How many uses could this person get out of a pencil? How many uses could I get?

Can I predict at what time my pencil will be unusable?

Is the x-axis scaled consistently?

It's mislabeled - should be times LEFT.

How many times was the smallest pencil used?

What scale units should be used for the x-axis? (aka, what is the exact relationship between size and times used?)

How far out should that last pencil be spaced so that the scale is linear? What could we label all those points?

What would that graph look like

where would the fourth pencil need to be placed to have an even scale on the x-axis?how many times has the fourth pencil been used?

How many times where the pencils used?

what is wrong with the scale here?

What is the mean number of symbols that may be written for each millimeter of pencil length?

How much farther to the right should the last pencil be?

How long was it used for?

How long was each pencil used for?

Is that a logarithmic scale?

Is that short pencil in the right place?

What is the scale for the number of times used?

What are the units of the bottom axes?

Why is the pencil a lot shorter the last time used?

Why isn't the last pencil further on the scale

why is it that the pencil wears out slowly at first then wears out rapidly?

What kind of sharpener was used on the 4th time?

What would you have thought the fourth pencil's height would have been if you didn't see it? Estimate the 5th pencil.

what did they use these for

What is the slope of the line of best fit?

How many uses does the pencil have?

Is that accurate because the erasers are different lengths?