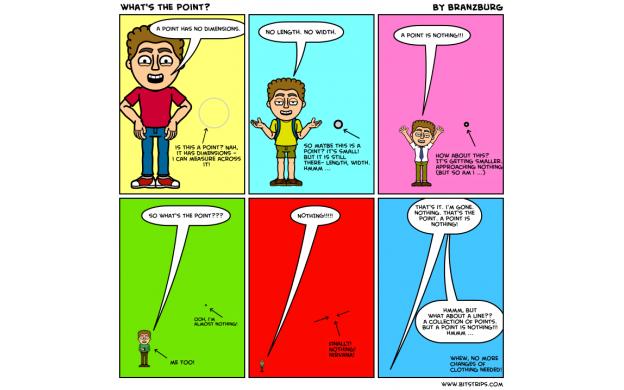 April 26, 2012

What does it mean to exist?
Are the person and point shrinking at the same rate?

Is there any practical representation of a point if it has no dimensions?

how far away does it become nothing

How is it possible for a collection of nothings to equal something?

How many of you have seen students who just won't let this one go? "Wait, so a point is dimensionless? Then how did you just draw one?"

Why does the boy keep shrinking?

Why is he in a different set of clothes in each frame?

Can you draw something that doesn't have any dimensions?

When the font is that small, what is the point?

How can I connect the dots with my fourth graders and the concept of points?

how small is the speaking ballon , can read it :)

Doesn't a point, period or full stop have three dimensions if it's drawn on a page?

Is this how students feel in plane geometry- pointless?