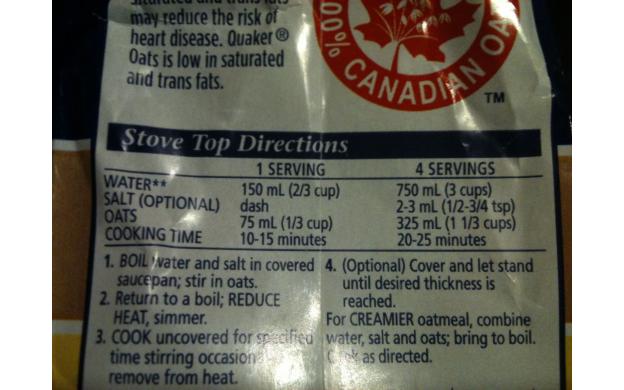 April 24, 2012

How do I make oatmeal for 3 people?
What is wrong with that math?

Why is cooking time not proportional like the rest?

How much oatmeal would you make for your family of 5?

What if I wanted 3 servings?

Why is the amount of water for 4 servings not 2 and 2/3 cups?

How long will it take to make 3 servings?

How much salt is in a dash?

would the ratios remain the same if you made 16 servings?

Will the cooking time double again if I make 8 servings?

Why does one serving take 10 minutes and four servings only 20 minutes?

750/150 = 3/(2/3) ???750/325 = 3/(1 1/3) ???

Dash? Run fast? Just kidding... too much info for a student = too much reading = boring. Crop this. I'd skip it, but wanted to offer advice

Can't they multiply by 4?

Why is more water needed for 4 servings (per serving) than for one?

If one serving is 75mL, then how is 4 servings 325 mL?

what's the recipe for 2 servings? 8 servings?

According to the Stove Top Directions, how many mL of oats would you need for 7 servings?

How much water is needed for a given number of servings?

Why is 4 servings 5x the water?

Why does 4 servings not directly scale from 1 serving?

What is the proportion of water to oats for each serving?

Why are the ingredients not proportional to the servings?

Why isn't 4 servings just multiplied by 4 (for mL)? And why is there so much more water, but only a little bit more oats?

How much of each ingredients and how long would I need to cook the oatmeal for 3 servings?

How big is a serving when cooked?

How long would you have to cook the oats for 6 servings?

How much is a dash of salt?

Only one of those quantities is scaled up by four. Why?

Which of those water equivalencies should I trust? Is the mL or cup measure more accurate?

Why isn't four servings four times as much?

The scaling of ingredients from 1 to 4 servings isn't the strict proportion I might expect (in some of the cases). What's up with that?

Why is the cooking time not 4 times greater for 4 serverings than for 1 serving?

why are the proportions wrong? (Great find)

Why isnt it just four times as much? How long will 10 servings take to cook?

How does the ratio of ingredients compare to the serving sizes?

How would I change this recipe to serve 8 people?

How much is needed for 10 servings?