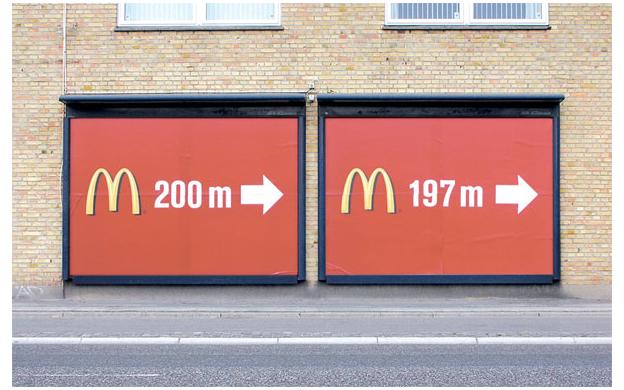 April 23, 2012

How large are the signs?
How big are those signs? To what accuracy can we know this?

Are they really 3m apart?

Haha, that's awesome. No question here for me.

How many calories can I walk off before I get to McDonalds?

What is the distance between the 2 signs?

Why are there 2 McDonalds 3 meters apart from each other?

How long is each sign? I'm lovin it!

What if the arrow was pointing in the other direction? How many meters would that be?

Where are the measurements for these signs taken?

How far away is the next Wendy's?

How long is the sign? How many signs till we get there?

What is difference between 200 and 197?

Where are the reference points?

How many more signs until I get there

Who decided to put two signs for the same McD's that close to each other?

Do they think someone will get lost going from the first one to the second one?

Is there another one that says 187 meters a bit to the right?

how long will it take me to walk to McDonalds

Who knew that McDonald's was so clever? (Also, how many signs until the restaurant?)

How far is the McDonald's really?

Where are the 3 meters located and using that, how tall are the signs?

Great! What's considered the center of the sign? Is there reall 3m between the two centers?

Are the signs 3 meters apart?

How many signs end-to-end would it take to reach McDonald's? (Did that marketing person get a raise? They should have!)

How many McDs signs between here and the restaurant?

Is the length of the first sign exactly 3 meters?

How many signs till mcdonalds?

Can goldfish read? Do they eat at MacDonalds?

how big are those signs if this is true info?

Why would you have two billboards representing the same McDonalds (if these are meters)

They already went 3 miles?

Why does the rest of the world insist on using such a simple system of measurement? Why can't they just be like us?

Is the distant from m to m 3 m?

what are the dimensions of the sign?

What does the m stand for?

Did I really need both posters?

Where are they measuring from on the signs?

Do we have enough information to decide where are they measuring from?

Can you show me 3m on this picture? Where else?

If this is accurate, how tall is the McDonald's arch?

How much did it cost to advertise one sign?

Why the need for a sign 3 meters closer?