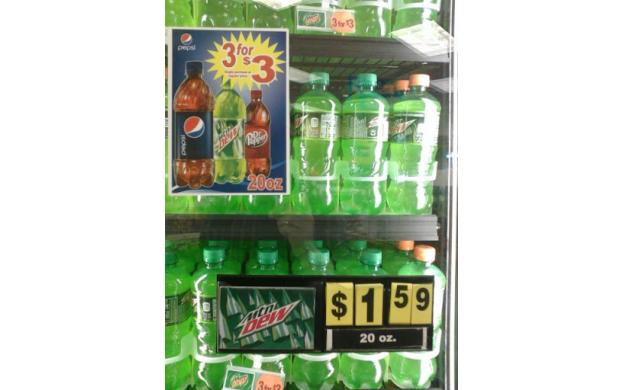 April 23, 2012

Is buy two get one free, cheaper or more expensive?
Why would anyone buy a single Mountain Dew?

How much do you save by buying 3?

How much do you save per bottle?

What is the likelihood that someone would sue over the mislabeled advertisement?

Why just buy one? Buy three.

Which size is a better deal?

What is wrong in this picture?

How much money will you drop on pop if you do the Dew?

What is the total savings?

If you don't buy three, would you have to pay $3.20 for two?

What would you do in this case?

How much more money is it if you buy 3 Mountain Dew bottles as opposed to the "3 for $3" Pepsi deal?

What is the percent discount of the 3 for $3 deal?

If they can sell them at that price and make money, how much extra profit do they make at regular price?

If you go for the 3 for $3 deal on Mountain Dew, what is the total savings per ounce?

why are the bottles oddly shaped?

Which deal gives me the most sugar for the least $$?

How much do you "save" if you buy 3 bottles? Should you buy 3 if you only need 2? What if they have a bottle deposit?

Isn't Dr. Pepper a Coke brand, not a pepsi brand?

Is the sale a better deal?

why would anyone buy the bottom deal?

How many soda bottles could fill the case?

Is 3 for $3 and $1.59 the same price? No! Why the discrepancy?