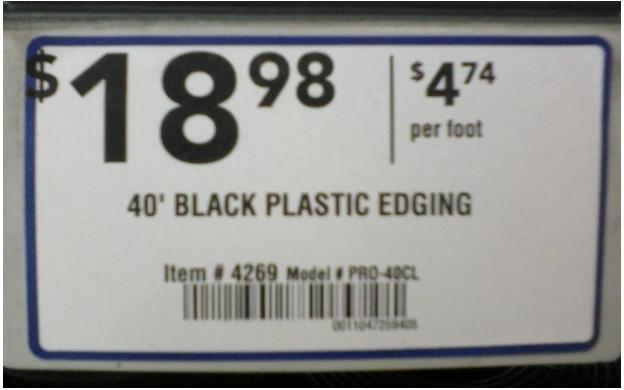 April 23, 2012

If the price $4.74 per foot, then how much should 40 ft cost?
How much plastic edging was purchased

What is the discount rate?

Should I buy the whole piece or by the foot?

Is the implied computation correct?

What should the unit price REALLY be?

What is the unit cost, really?

Who's responsible for this 'math'?

Can that be right? How much money would you waste by buying separate 1 foot lengths?

How much is it really per foot? What is the difference between the per foot cost and bulk cost?

How many pieces would be needed to encircle your classroom?

How is it 4.74 per for for 40 feet to get 18.98?

Is the unit price correct?

Is the error in the total price or the price per foot?

When is it better to buy all 40 feet instead of by the foot?

What is the actual $ per foot?

How much cheaper to buy the whole thing?

What is the real price per foot/ What should the actual price be/ How long should the edging actually be?

Is the 40' for how tall it is? If not how much should it really cost at $4.74 per foot?

$4.74 per foot vs. $18.98 for 40 ft ....which is the best deal?

Why does 40' only cost $18.98 if it's supposed to be $4.74 per foot?

How much will it cost to edge a garden?

Why doesn't the price make sense?

What is the true price per foot? How was $4.74 calculated?

Why don't these people know how to multiply or divide?

Is the price per foot correct?

Is there a decimal point error here?

Why does it cost less per foot?