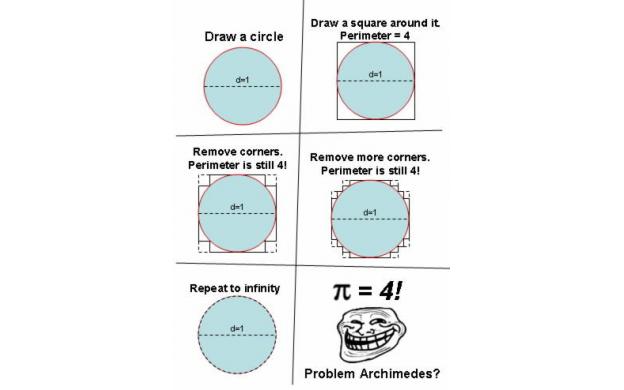 April 17, 2012

Where its the flaw in the logic?
I know that's wrong, how can I prove it?

What am I missing here? Also, pi does not equal 4 factorial...just kidding, I know what you meant.

What's wrong with that argument?

Why does anyone still deal with this joke?

What is wrong with this logic?

Oh no! Why doesn't pi = 4?

How can we resolve the paradox?

What if you consider areas rather than perimeter?

Can you do this in Geometer's Sketchpad?

How does this mathemagic work?

where does the extra length go?

what's wrong with this proof?

What is the logical flaw?

What's the flaw in the logic?

To infinity and beyond has its problems but why?

What is the difference in the "perimeters" of the 2 shapes. Write a sentence explaining why they are different.

What could we do to get a more accurate number for pi?

What's the easiest way to disprove this?

What would happen if you cut the corners wtih diagonal ines instead of taking out squares?

Pi isn't 4, so what's the error?

What is the flaw in this logic?

If you repeat to infinity, wouldn't there still be some space, if there still are some corners? A circle has no corners. If D=1, C=pi not 4

What unit of measurement?

Why doesn't it work that way?

Why is the mask at the end

Pi is not equal to 4. How did you come up with that?

Can I look at the bottom left picture with an infinitely powerful microscope?

Why does this make me laugh?