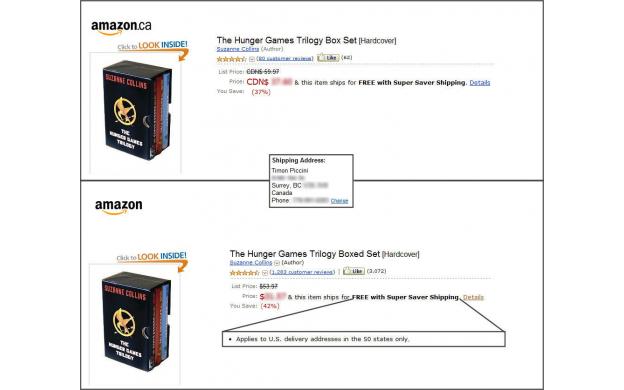 April 16, 2012

Which amazon do I pick eh?
If you live in Canada, which site should you order it from? (The differences weren't obvious to me at first...not until I noticed the .ca.)

Are the prices the same? If so, what is the implied exchange rate?

Which should Timon buy from?

How much is the new price, based on the savings percent?

How much would shipping have to be to make ordering from the US cheaper?

Is it a better deal to buy it at the reduced price abroad, or the lower price at home? (Are those canadian or US dollars?)

Should I read these books?

How much do the books cost?

Where does Timon Piccini live?

Why not just eliminate "Super Saver Shipping" note?

Why is someone implying that shipping is not free in Canada? (it is >$25)

Aren't all US addresses in the fifty states?

Is it a better deal to use US dollars and pay for shipping or to get free shipping and use Canadian dollars?

What is super aver shipping?

How much is it going to cost to ship the books?

Will it be cheaper to buy it from amazon.ca or amazon if the purchaser lives in Canada?

Do the books cost the same after the discount?

Which is the better deal?