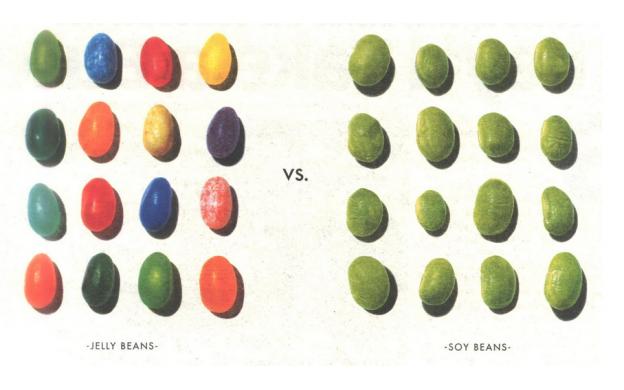 April 16, 2012

What's the nutritional difference between 16 jelly beans and 16 soy beans?
How many more calories on the left?

What is healthier? What side do I want to eat most (I'll give you a hint it's not the soy beans)

Which generates more power in a mass to energy plant?

Why would anyone choose soy?

What is the ratio of green jell beans on the left to green soy bean on the right.

Which is more variable in size: jelly beans or soy beans?

Are the average volumes the same between the jelly beans and soy beans?

How does the nutrition compare?

How are calories calculated?

How many more calories do the jelly beans have?

On average, are they the same size?

What's the trade-off between having fun and being healthy?

If mixed together, what is the likelihood of choosing green?

how many colors in the chart?

is there a soy bean amongst the jelly beans?

Who would take soy beans when they can have jelly beans?

Which diet has the most calories?

How do the embodied energies of jelly beans compare to soy beans?

What is the ratio of sugar:protein in each bean sample?

What needs to be done to soybeans to make me as attractive to eat as jellybeans?

What about the solid color that is mixed in with the multi colored ones?

What would you rather eat?

How do the calories in the jelly beans compare to the calories in the soy beans?