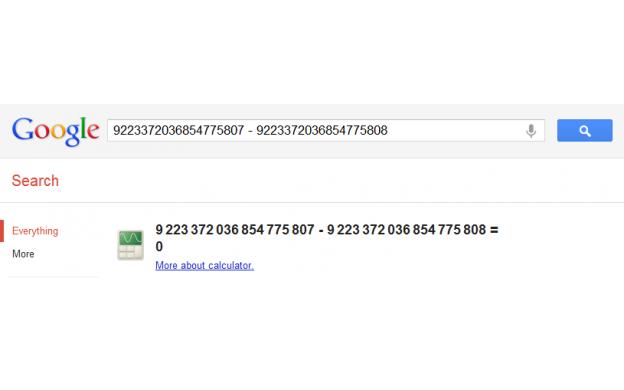 April 13, 2012

Why is it equal to zero?
Uh, how did you break Google?

Why is the answer not -1?

How many significant digits does Google use when calculating? Nice.

Wait. Waitaminit. Why is that happening?

Why does it say that? Clearly the answer is -1!

Why would Google calc get this wrong?

What is the largest number google's calculator function can accurately add/subtract?

Using this "rule," what would be the quotient of these two numbers?

Up to how many digits will the google algorithm give you a correct answer?

Does -1=0? And if so, what are the implications?

At how many digits does the calculator give a correct answer again?

Why does this equal zero on the calculator?

Can't google make calculators that work?

how can that be? What's google's floating point limit?

Why does google mess up this calculation?

How many digits can the google calculator hold?

How does the calculator work that results in making this error?

Who is smarter, humans or Google?

what is the point of doing this

Isn't it supposed to be -1?

How is the calculator getting the wrong answer?

How many digits of precision can Google record?

Ha! What? How is that possible? What happened here?

What other ways can I break Google Calculator?

Why did you use a calculator for this problem?

Why does it say the answer is zero?

At what point in the calculation did Google Calc make its error?

Is it the same for other pair of 19 digit numbers? What about numbers with less digits?