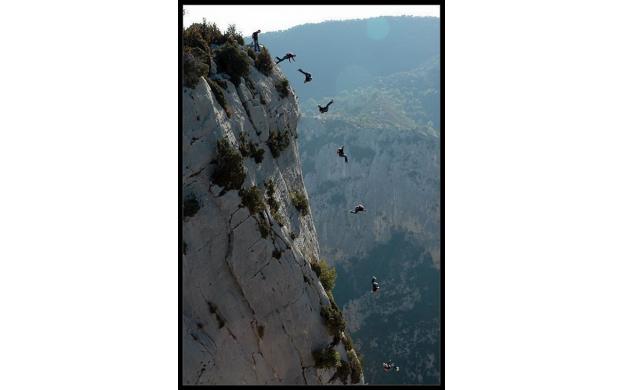 April 11, 2012

How fast does he have to go horizontally to clear the rock?
If that mountain's slope continues at that angle, how far down until he goes splat???

What height did the person jump from?

How hard did the jumper have to push off so he didn't hit the mountain side?

Why do the guys get farther apart as they fall?

How long before he has to pull his parachute?

What is his acceleration?

At what time intervals were the photos taken? (and how far down?)

How many people are falling?

is this the most dangerous math problem ever?

Does the last person pull their parachute first?

did the somersaulting crazy dude have a goPro?

Yikes. How long will it take to reach the bottom? Also, will he/she avoid hitting the side of the rock?

How are they all going to land safely?

About how often does the shutter snap?

I really like the image - what is happening to the gaps

What interval are the pictures taken at?

How tall is that cliff? How precarious was the photographer's position?

Does he have a parachute?

How fast is the diver falling at the last strobe?

Is that one guy with multiple images or many guys?

How many seconds between pictures?

How many frames per second?

How hard does he jump to avoid hitting the wall?

How fast did the diver jump horizontally?

What is his instantaneous velocity at each point?

What is the distance between each diver given they jump at the same time increments?

What i s the frame interval?

What is the BASE-jumper's acceleration?

Will they land in the same order or rate as they left the cliff?

Why is there more space between the people at the bottom and those at the top?

How fast is this person falling?

How long will it take to reach the bottom?

How far will the person ultimately fall before pulling a parachute?

When does he need to open his parachute?

how long til they hit the ground

How far are they jumping?

are they about to hurt there selves

How many flips before hitting the bottom, including acceleration?

How was it made--photo shop or multiple people? How many pictures did it take to make this one? Where is it located? What is at the bottom?

how long til he hits the bottom?

How long will all the daredevils be in the air together?

how many times can a person flip?