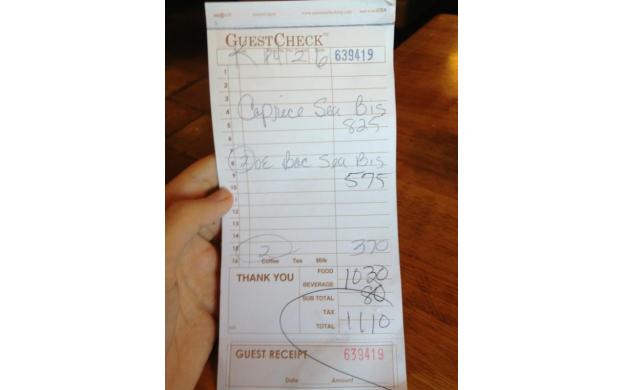 April 07, 2012

What's wrong with this picture?
What percent discount did you get?

Is the check total correct?

If you want to tip the server an amount equal to the mistake made on the bill, what percent would that be?

Is a discount applied or is there a miscalculation?

Did you tell the waiter about the mistake?

was there a discount of some sort?

How much of a discount did you get?

How should we split the bill?

Are there operations that could make this total correct?

Was there some type of discount given?

why doesn't any of this seem to add up

How did the waiter get that total?

How much money did the waiter lose on their 15% tip due to their error?

How much tip should you leave?

We don't need math outside of school?

What is the approximate error?

This guy spent a lot of money

is my bill really 1000 dollars

What percentage of tax was added to get the final price?

what percent did you tip?

What base is that addition in?

Where did the subtotal come in?

How did they reach that total?