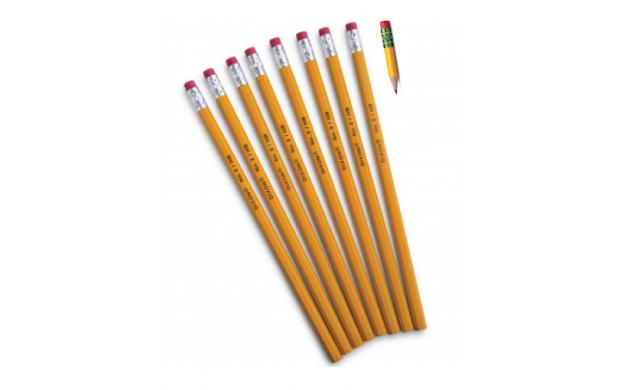 October 04, 2017

How many days does it take to turn a pencil into a pencil stub?
1.

How many pencils will you use during the school year?
Students use, on average, one pencil every two weeks. A school year is 180 days.
2.

How many pencils will you use in Kindergarten through 12th grade?
How many rotations were needed to sharpen the small pencil to that size?

Why didn't anyone sharpen the pencils?

You must have been using the short stub in a pair of compasses, and not to write by hand - am I right?

How little is too little for a pencil?

what is the ratio of length between long pencil and short pencil?

What sizes are the big and small pencils? How many erasers are there? How many letters can be erased with those erasers?

How old is the small pencil?

How long did it take to wear down that pencil

How long is the used pencil?

how long to sharpen all the pencils to the same length

How long does a pencil last?

Why is the pencil a different color at the top?

how much of this pencil was sharpened?

How many times has the smaller pencil been sharpened?

Why is only 1 pencil sharpened

The lead in this pencil keeps breaking. If sharpening the pencil once reduces the pencil by 1/12, how many sharpenings can one pencil take?

What is the ratio of eraser volume to length of the pencil in the short Ticonderoga compared to that of the longer pencil?

how big is the small pencil

Why are the other pencils not sharpened?

Is this a metaphor for quality vs quantity?

What fraction of pencils are there?

What fraction of the pencil was used?

How much more of the short pencil will be used before the user sharpens another?

What fraction of the larger pencil is the smaller pencil?

how many pencils are there?

If you wrote x words a minute in a x hour school day, after how many days would you wear down this pencil to this size?

How many times would you have to sharpen the pencils to get it to the mini size?

These are the contents of a student's pencil bag on September 15. Will these supplies last him until the end of the school year?

What fraction of the whole pencil is the shorter pencil?

can the student still write with the pencil nub?