Canada's Penny Withdrawal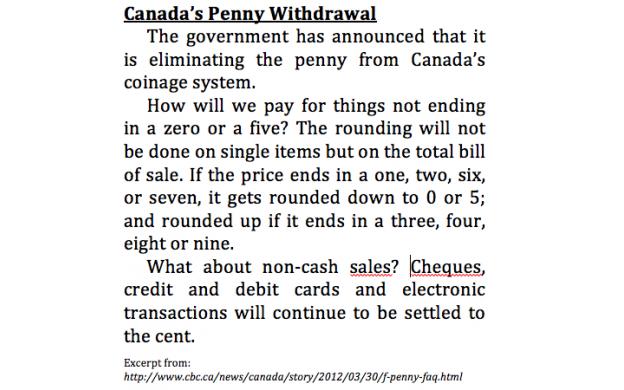 April 06, 2012

What's the best way to make purchases to save the most money?
would there be a difference in price if you rounded the individual items?

Do you save more money paying with cash or with debit?

When the USA eventually withdraws the penny, how will they compare/contrast to Canada?

How do I exploit this (as was done in Superman III)?

Is the rounding fair? Will everything be rounded up? What about taxes -- will the tax be calculated on the rounded or the exact number?

Will my bank account be rounded too?

Over lots of purchases, will I lose money from the rounding?

Will they be rounding up more often or down?

How much can a smart shopper save by exploiting the system?

Will more prices be rounded up or down?

Why doesn't the US get around to doing this too?

Is it better to pay with cash or credit?

Will you break even on rounding in the long run?

Will this force students to actually pay attention when they have to make change or will the cash register remain their saving grace?

Did they check with the United States first?

Will the rounding system benefit the consumer or the merchant?

Will stores purposely set prices to end in a 3,4,8, or 9?

What was done when the farthing disappeared, and why can't _that_be done now?

Will things work out even over the long run?

Why round to the nearest five?

How bad am I getting screwed in Canada? Still, lots of good reasons to be Canadian, eh?

Is this a house or player advantage?

How would this change a family's grocery bill?

Why didn't they do this sooner?

Will it usually be rounded up because so many prices end in a 9?

who comes out ahead - the customer or the store?

How can stores take advantage of this?

Is this system fair to the consumer?

How much will this cost/save consumers?

Why does the U.S. not implement this?

How will this effect my money over a year?

How do I determine how much it effects me?

will they programe cash registers

Will this influence how business owners price their goods?

In a month, will I be over paying or under paying for purchases.

I like the idea. What would the difference be for your average shopping trip to the grocery store?