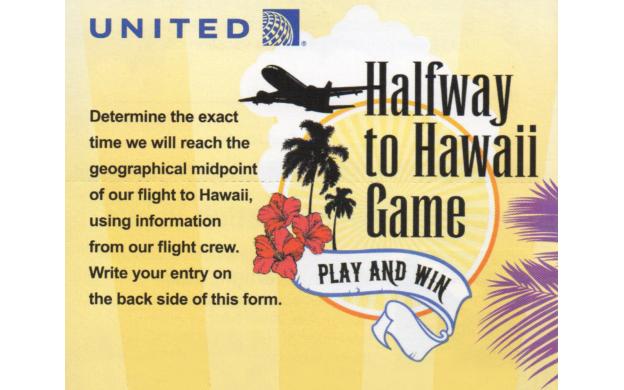 April 06, 2012

When will the plane be halfway?
where are you flying from?

How close will the geographical midpoint be to the midpoint of flight time?

What are the coordinates of the midpoint?

Does this change based on weather?

The exact time in which time zone?

Where is halfway to Hawaii?

Is half the travel time = half the distance? If not, why?

How do I factor wind resistance into this?

What information is provided?

is the 1/2 way point time the same coming and going?

What number would you choose? Will you have to split your prize with a bunch of other people? How far off do you think people will be?

Exact? To what degree of precision? (Common Core Math Practice #6: Attend to precision.)

when did you leave. where did you leave from. any stopovers.

Was this contest invented by a math teacher?

Where is the flight leaving from?

Which time zone should you give your answer in?

Determine the geographical midpoint of the trip at sea level, at 3,000 metres and at 10,000 metres elevation.

What information is sufficient to determine the half way time?

Where are you flying from?

Are we assuming the pilot won't speed up or slow down in order to cut down on the number of winners? How would you graph this?

Which time zone should I use?

Will it not be the half way point of the time?

What information would we want to know?

What factors are needed to figure out when you'll be half way to Hawaii?

Where is the starting point?

Does the airplane travel at a constant velocity?

What is the distance between the two locations?

How fast does the plane travel?