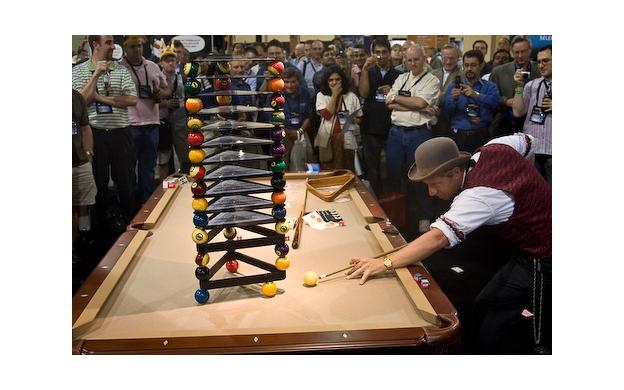 April 01, 2012

How do angles play a part in sinking all of those balls?
What's gonna happen when he shoots?

What exactly is the trick of the shot?

What balls will enter pockets and which pockets?

Will he sink the blue ball.

How many pool balls are used to build the tower?

what's the potential energy of the balls in the tower?

What happens if/when he hits the ball on the bottom right?

Is a disaster inevitable? (Is there video of this?)

Will they all go in a pocket?

Why isn't this a video?! :)

Can he knock out the yellow ball but still keep it balanced?

That's seriously cool. How many will go in a hole?

What's going to happen when he hits the cue ball?

Where are all the balls going to go?

Why is that guy wearing Brian's hat?

What exactly is supposed to happen here? And will it?

How much many does that guy make for performing stunts like that?

What on earth are the doing?

Will he sink any of those pool balls in a pocket?

WHat will happen if he hits the yellow ball?

What is the goal of the trick shot?

Can he sink the yellow ball in the corner pocket and stall the cue ball to take its place without tipping the stack?

What is the purpose of this?

Where do all the balls go?

What happens next? How many balls bounce off the table?

Who's in charge of cleaning up the inevitable mess

What is going to happen after he hits the yellow ball?

What's going to happen here?

Can you move the balls to other places where they will stay balanced?

Why is he bothering to try that?

what balls are going to go into the pockets?