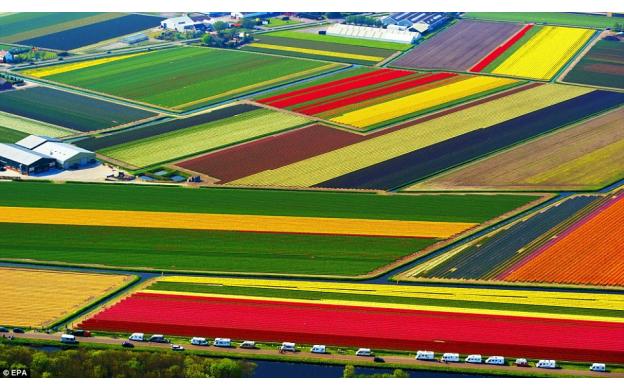 April 01, 2012

How many flowers make up a particular patch of color?
are those tulips? What percent is red?

What are they planting there?

What is the area of the purple patch in the center of the photo?

Wow. I'm assuming those are fields of flowers - how many bouquets ?

How much land is used for each specific flower, vegetable, etc? (Amazing pic! Where is that? Europe?)

How many football fields would fit in the large red field?

What kinds of plants are those

What percent of the field is red?

Where is this? I'm betting on the Netherlands. How many (tulip) bulbs? How much are they worth?

Are the fields color coded for a reason?

Flowers for how many flowershops?

Could you fit all the visable tulips in the vans on the road?

Are all those shapes regular?

Which color has the biggest area?

How many individual flowers of each kind/color?

What colors cover the most area?

How many colors are there?

how much red paint does it take to cover the lawn?

How did they get solid colors of red, orange, and yellow? Is there green and your eye just doesn't pick it up at this distance?

How many rws in one paddock?

Why are the fields so colorful?

how did they get the colors?

How many quadrilaterals can you see?

how densely planted are the flowers?