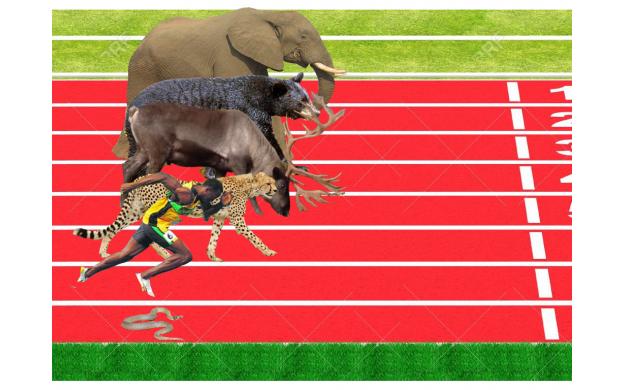 June 30, 2015

Who will win/come second/etc?
Teacher note

Animal Speeds

I gave them the following, but you could change the units, distances or times more to practice that skill, or get them to search online for their respective speeds:

Elephant

970km in 1 day

Grizzly Bear

48km in 1 hour

Reindeer

104km in 2 hours

Cheetah

2km in 1 minute

Human

100m in 9.58 seconds

Snake

9 metres in 1 second



Teacher note

The event is the 100m sprint.
1.

How far will they have all got by the time the cheetah crosses the line?

2.

How many seconds head-start does each animal need so that they all finish at the same time?

3.

Who would win a marathon? Why would the answer not be the same?