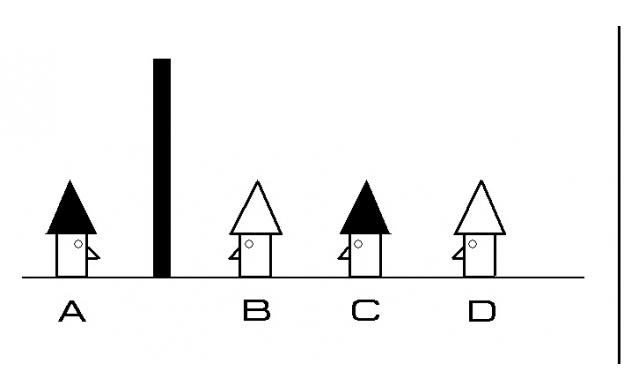 May 29, 2015

Who will figure out what color his hat is and how?
The story:

They are prisoners and they are put to a challenge. They are buried in the ground and they must guess which hat they are wearing. Nobody can see through the wall. They know that there are two of each color.

They can see whatever color is in front of them accept for through the wall.
The second person on the right side will save the prisoners. He will realize that the person behind him is not saying anything. That means that he is not the same as the one in front of him. He will figure out that he is wearing a black hat and save them.
How will Person A know what hat they are?

How can you get them all on one side?

how can I make this a one-move game?

What is the tall black line for?

How do you figure out the color of everyone's hat with a big wall in the way?

Why is A separated from B,C,D?

Will the pattern continue

What is the flip of this picture?

What does the vertical line represent?

Why is there a line dividing them?

Are these little people? What are they doing with the pole?

Is this related to east and west berlin

why is there a wall between A and B?

How many triangles are in the image?

Is my hypothesis correct?: The seq of the buildings is black white black , and with every obstruction, the direction of the triangle changes

Can this be written as a linear equation?