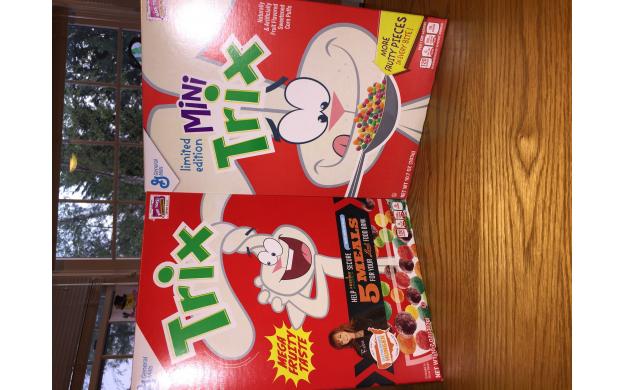 May 03, 2015

Is a one cup serving really about 32 g for each size?
How much more space does the mini trix cereal take up than the regular trix.

What is the ratio of mini trix to regular?

Is there any difference between the regular Trix and the Mini Trix besides size?

What is the ratio of 1 tsp of each?

how many mini Trix can fit in a box compared to regular Trix?

How many tricks are in both boxes.

Even with smaller pieces, is it the same amount of cereal in each box?

why are they limited edition? they're so good

What is the Rabbit up to?

Why is this picture sideways?

How many mini-trix make up a regular trix?

Will a bowl full of the minis have the same caloric/nutritional values and the same mass as a bowl of the regular Trix?

How many more pieces of trix(min) would fit in the mini box?

Why is this photo in landscape?

Which colour is predominant?

How many of each size will fit on a spoon?

What is the diameter of the mini Trix compared to the diameter of the regular sized Twix?

Why is that board sideways?