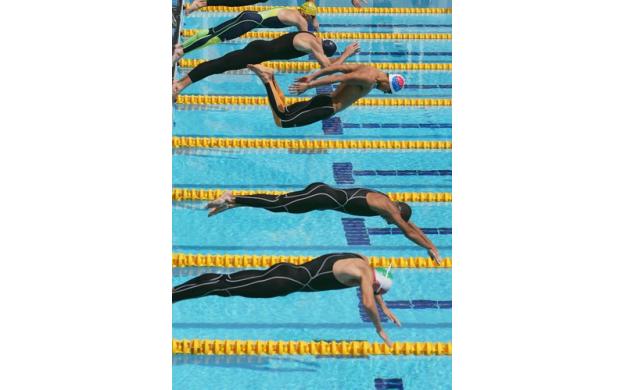 April 21, 2015

How high should a swimmer be for the optimal start to their race?
Why does the center swimmer have a different dive? WIll he win?

What the heck is that guy doing in lane 3?

what the heck is that guy doing?

Why is the middle swimmer going to belly flop?

is the 3rd guy behind or in front?

He's got that PERFECT FORM!!

why is the third swimmer jumping into the water with his body folded rather than stretched out as the others are

Which swimmer has a faster start?

Why is the athlete in the middle using such a different stroke?

Which swimmer traveled the furthest with his dive?

Why doesn't he have a swimsuit covering his upper body ?

Why is the middle diver using a different technique?

Is that Michael Phillips?

Why is the middle swimmer diving like that?

Why does one lane appear to be empty?

Is there some sort of advantage to diving in like the guy in the red white and blue hat?

Did one swimmer not know the type of event?

Did the the swimmer with his arms back jump sooner or later than everyone else?