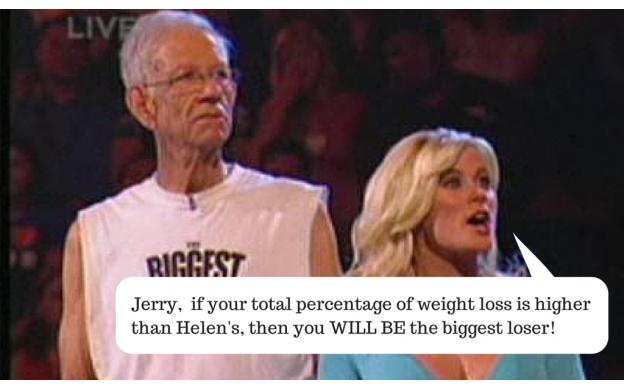 October 16, 2014

Will he win?
Teacher note

These contestants are from the Couples 2 season of NBC's The Biggest Loser.

Image

Helen's final weight

Image

Jerry's final weight

Teacher note

Have students set up proportions comparing Helen and Jerry's initial and final weigh ins.

Point out that this is really a good scenario for an inequality since Jerry would win with any percentage more than Helen's.

How do we find percentages?


1.

What was the highest final weight Jerry could have had and still had a higher percentage than Helen?

2.

Is there a percentage of weight loss that would be too much to still be healthy?
What size person has the most success on Big Loser?

How much did they weigh before and how much did each lose

What was your start weight and how much do you weigh now?

what is Helen's total percentage of weight?

How do you calculate the total percent of weight loss?

How big are Jerry and Helen?

What was Helens percentage?

What are Jerry's and Helen's weights?

How big was he to start with?

A imagem está comparando os pesos(do Jerry e da helen). Deve ser uma competição quem perder mais peso "ganha" o título de "maior perdedo

What percent did Helen lose?

How much weight did Jerry lose?

how can you calculate your percentage loss as equation

What percent did Helen have?

Blayke: How much did he lose compared to Helen?Sharelle: Did they lose this weight over the same time period?

What are the starting and ending weights?

How much did they weigh at the start?

how much weight did Helen actually lose?

What is Helen's percentage of weight loss?

What were their beginning weights?

Did he keep the weight off?