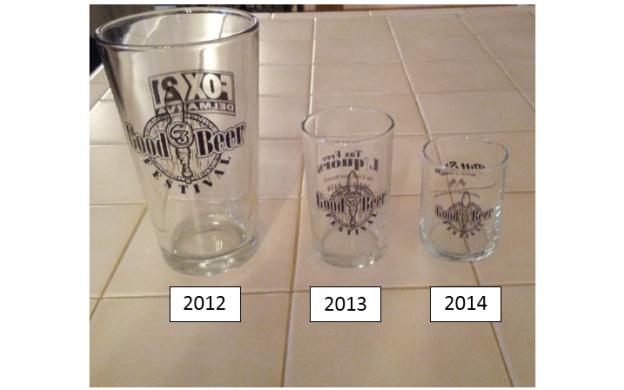 October 13, 2014

What will the glass size be next year?
1.

How many 2014 glasses will fit in the 2012 glass? The 2013 glass?

2.

How much smaller is the glass getting?
What function fits, but never requires me to stop drinking beer?

Why are they getting smaller every year?

How much more beer did you get in 2012 than in 2014?

Sorry, but I'm wondering if this is a picture I really want to use with JH/HS kids.

What size will the glass be in 2015?

Why did they get smaller?

How much has the company saved in glass by producing smaller glasses? Will the trend continue?

Why do the glasses get smaller with every year that passes?

Why is the cup getting smaller?

Why does the glass size decrease every year for the Good Beer Festival?

what is the difference in volume?

Why does the glass keep getting smaller over the years?

What is the decrease in fluid ounces that glasses can hold from 2012 to 2014?

Is the capacity of the glasses in the same proportion as the volume of glass required to make them?

why are the glasses shrinking

Why do the beer glasses get larger each year?

What size will the 2015 glass be?

how many little glasses will fit in the big glass

How much is the capacity of beer in the glasses decreasing by for each new year?

Did the glass get larger as the audience got larger? Not to mix politics with math, but I would rather have Cuomo Prime Time printed on?