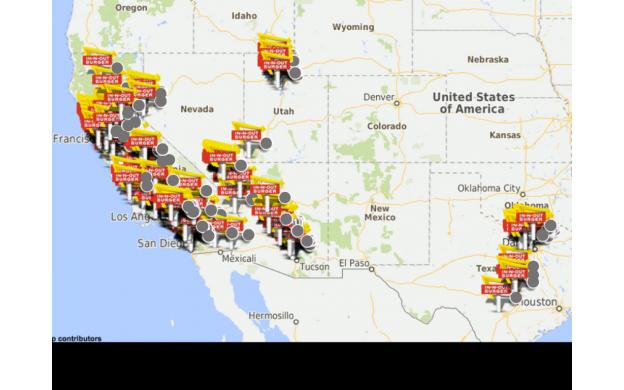 October 02, 2014

How many In-N-Out Locations are there?
Why no love for New Mexico? (And, how many locations? And, how many locations per state?)

Where do the owners of In-Out Burger live?

why are there only concentrated areas?

Why hasn't In-N-Out tapped the Oregon market?

How many burgers are sold each day?

What is the average distance of an In-N-Out to Denver CO?

why don't they show the east coast?

Did you know that after all these years, the In-n-Out are still in 1:1? Everyone who goes in, comes out.

What is the furthest distance between 2 restaurants?

What places have you visited?

What do those place markers stand for?

Where are the majority of them?

Why aren't there any In-N-Outs in New Mexico?

How many locations are there?

What's the average amount spent per customer, per visit?

What percent of franchises are in California?

Who will go in with me to open an In-N-Out Burger in New Mexico and close the gap?

what are the pin points marking?

How Many Ins and outs are there? Are they any on the east coast?

How many locations are there? What's the furthest distance between two In-n-Outs?

Why are they mainly located in California

Is there a trend in how In-n-Out is expanding?

My car gets 32 mph. How much gas would I use to get to the in and out closest to my home?

How many in and outs are there in total?

Why so many in California?

Are there other locations in other states not shown on the map?

How many people live in each place?

what is wrong with new mexico

why are there none inbetween

When will they reach toronto?

Why no NorthEastern US locations?

Why no In-n-Out in Oregon?

lucky Cali over here in colorado we are starving from deprivation of in and out burger, why dont we have any in clorado?????????