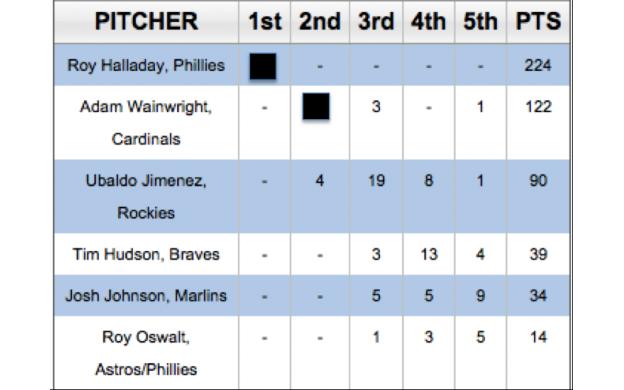 September 25, 2014

How many points is each vote worth?
1.

How many 2nd place votes did Adam Wainwright receive?

2.

How many first place votes did Roy Halladay receive?
Teacher note

Ubaldo Jimenez, Adam Wainwright, and Roy Halladay all had the maximum amount of votes possible.
Does Halladay have 32 7-point 1sts or 28 8-point 1sts?

How much is each vote worth?

Why are those boxes black?

Why is Roy Holiday's name spelled wrong?

wich pitcher got the most points?

What are the multipliers on each placing's number?

How did their stats affect voting?

Does the fastest pitcher have the highest score?

What is the chart measuring?

(Doc is the Best!) How many first place votes did Doc receive? how many pts are awarded per 1st place vote?

What point values are assigned to each place, and how many 1st and 2nd votes are blocked out?

Why didn't Roy Halladay play in the 2nd-5th

Why are there black squares on the chart?

What do the squares on this baseball chart mean?

How many voted for Roy Halladay?

Is the amount of 1st place votes received by Roy Halladay the same as the amount of second place votes received by Adam Wainwright?

Where do the Cubs fit in here?

What do the numbers mean?