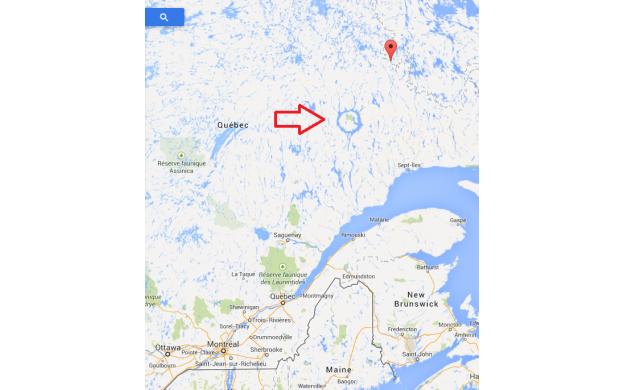 September 04, 2014

How did this happen? How big is it?
1.

What's the area of the lake? The area of the island? (let's ignore for a minute that coastlines are fractal...)

2.

Is the lake bigger or the island bigger?
distance between Montreal and Ottawa: 170km

distance between Montreal and Québec: 226km

distance between Montreal and Sherbrook: 135km

Teacher note

by giving students arbitrary distances, they will have to train their scaling and conversion skills (if they wish to have the final answer in miles for example. Although I'm French, so miles are weird to me anyway.)
Image

external diameter

Image

inner diameter

Teacher note

measurements can be found by students playing directly in google maps.

A1 = Pi (R²-r²)

A2= Pi r²

R =~ 66 km

r =~ 55km

A1 =~ 4180km²

A2 =~9503km²
What is the arrow pointing to?

How long does it take to get from one point to the other?

What is the area of the park?

What is that arrow pointing to?

What city is this in Canada?

replika schweiziske ureførste kopi ureførste kopi ureReplika ure Online Store.Shop IWC ure, Breitling ure, Rolex ure, Omega ure, Cartier u

Distance from pin drop to the arrow point is distance A. How many distance A would it take to go from water to Montreal to the arrow point?

How long would it take to drive?

is the ring there in real life?

How did a circle end up there?

How much further north is that from where I live?

What is the area of the circular region pointed in the map?

What is the circumference of this water way?

What is the temperature in that location?

Why is there not snow in that area?