Coffee Shop Charity Competition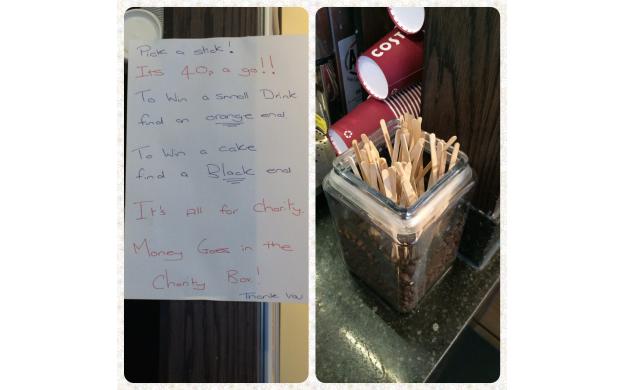 August 26, 2014

Will the charity make any money?
Teacher note

I'm not sure exactly how many winning sticks there are in total, but I played 5 times and won once
If I filled the rest of the jar with coffee beans and then removed the sticks, how far from the top would the coffee beans settle.

What are the odds of winning a small drink for 25% less than the cost of purchasing it?

What are the popsiclesticks used for?

Are there any other options? That is, are there sticks that don't have an orange or black end?

What is the ratio of black to orange stick ends and are there any blank ends?

What is the probability of winning a cake?

What are my chances of pulling and orange or black one?

How many orange ends are there? How many black ends?

If there are 40 sticks and three colors, what are the odds you'll get a black end?

How much money did they raise?

What charity gets the money raised?

How many of each are there?

Why do we need the sticks?