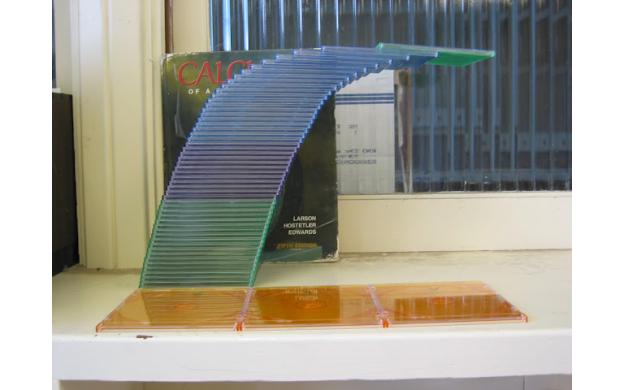 March 24, 2012

How many cases will it take to get the top case 4 units (cases) from the bottom case?
Where should I put the next one if I want it to stay standing?

will it hold any more cases?

What is the maximum overhang?

How far out can that tower go?

At what angle can you stack the CD cases so the structure won't fall over?

How far can we extend the stack?

Can we build this up higher and father out?

Could you put another one on top without it toppling over?

What is my Calculus book doing there? Actually... how does this work? How slippery are the squares?

When will those cases fall?

Will it topple with the other three one there?

What's the biggest gap you can bridge with these cases?

what function best describes the right edge of this tower?

How "horizontal" can it get without falling?

How many more can you place before it falls?

What equation describes the curve?

could you do that with a lower stack?

where can you put the next one?

How stable is that structure?

Is it possible to add another tile to the top directly over the uppermost blue tile?

how many cases are necessary to get 5 cd cases out? what is the formula?

How is that possible? How much are you shifting each CD?

Where is the center of gravity?

How far over can you go before the tower tumbles?

How many more items can I add to this stack before it collapses?

Where is the center of mass?

What is the furthest you could make a CD-case tower lean?

What is 1/2 + 1/4 + 1/6 + 1/8 + 1/10 + 1/12 + 1/14 + 1/16 + 1/18 and so forth? It's clearly way more than one. :-)

Would this work with VHS tapes? How about with Calculus textbooks?

what function would model that?

How far could this continue?

Can you add another without tipping it over?

How tall could it be if the horizontal shift was constant like the bottom?

What else are we to do with out-dated objects?

Is there a function that could describe that curve?

What happens if one more is added?