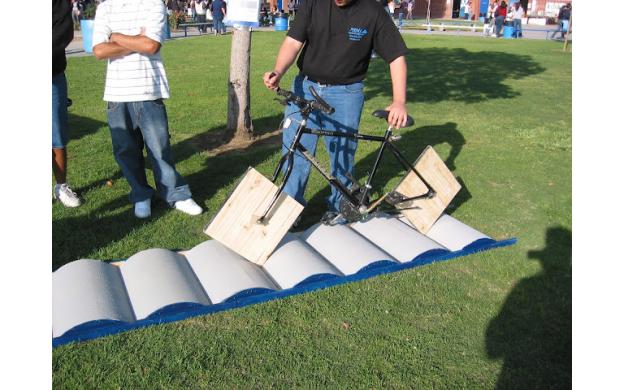 March 24, 2012

What is the shape of a the curve?
Will it be a smooth ride?

The wheels are squares but how did they know how to design the /pavement/?

What a GREAT photo. Will the ride be bumpy?

Will it work? If so, what's the point?

Will that thing move when peddled?

How bumpy is that ride going to be?

What is the perimeter of the "wheels"

Does every corner fall in valley?

What's the point of having square "wheels?"

Smooth. Is that a cycle-oid?

How come those sort of bikes move smoothly?

Will the bike maintain the same height as it travels?

Does the length of the side of the square match the length of the hump?

Will it give a smooth ride?

That look as if it would be fun - can I try that?How does the shape of the surface allow square wheels to work?

Could this be done with triangular wheels? What would the ground look like?

Is that supposed to give a smooth ride?

Does the seat stay at the same height as it "rolls"?

What measurements of the path matter? How smooth is the ride?

How are the side length of the wheels and the radius of the circles related?

Is the perimeter still the distance traveled?

Will this be a smooth ride?

Could you use larger portions of smaller circles with the same bike

does that work? Where's the video?

How did they design the path?

Does that hurt to ride (especially for the boys)?

What shape are those mounds?

Can it be designed so that the bike rides smoothly?

Who would use this type of bicycle?

Is that going to be a smooth ride?

Does it ride as smoothly as a regular bike?

Can you drive with those wheels without problems?

Does it really work? What is the equation for the "road"?

Will the corner of the squares always land in between the humps?

Could you pedal on that bike without falling over?

Can I ride this to school?

Why won't this be a bouncy ride?

What will it feel like to ride this bike?

Why square instead of round wheels?

What other geomatric structure can we use to make the bike move smoothly?

Can you ride a bike with square wheels?