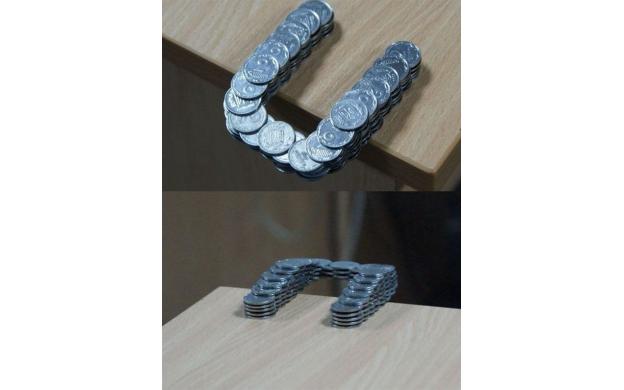 March 24, 2012

How does it balance?
How the heck did you do that? and could you make it wider?

Are the pennies on one side of the table equal to those on the other?

WHAT THE EFF? How does that thing stay up?

How is it constructed? (great picture)

How much weight can it hold?

How many more coins will make it fall?

How big can the overhang get?

Are those things glued together, or is that support all on its own?

How far can it extend out over the edge?

how many quarters is that and how does that happen?

Can you make a bigger one?

How far out is that? Could it be made longer? I need to try this.

How is this possible? Couls you do it with another type of coin?

Wha?! Or, where's the center of mass of the distribution?

How far could you go off the table?

How does that work? How much money is that?

What's the biggest it can be before falling? How much does that thing weigh?

How long would it take me to figure out the trick to this? Where do you start?

No way! How many quarters are floating?

Magnets? Or just clever center-of-gravity manipulation?

Is this the thinnest you can make this, and still have it work?

Is there a limit to how far you can go doing this

How far out off the table can you build something like that?

Whoa! How many quarters do you need to make that happen?

How are those quarters not falling?

How are they being held up? Glue? Pattern?

What is the fewest number of coins that can be used to create a chain that balances on and off the table?

Is there a magnet underneath the table?

What pattern lets me construct this myself? I want to show my students how to really impress a waiter/waitress they tip.

How are the quarters staying attached to the table?

how many coins can i put on the tip without it falling over?

How much further out from the table edge can I push before the stack of glued (?) coins fall?

How many quarters can be stacked without falling?

What strategy was used to build this?

How many coins are there?

How? Can I replicate it? When will it tip?

How did you do that? I want to see different angles.