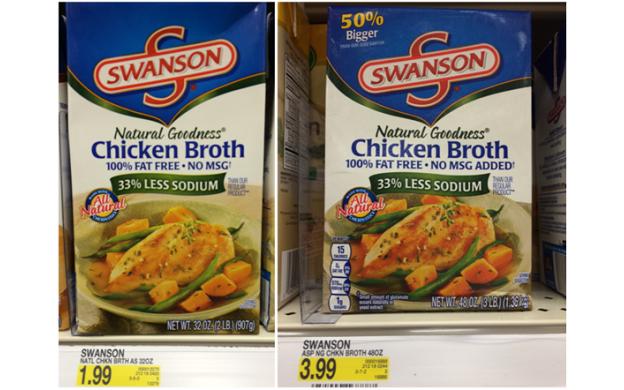 July 13, 2014

Who's in charge of pricing products at this store?
Why do I feel cheated if I buy the $3.99 broth?

Why is 50% bigger 100% more expensive? Would my wife buy the bigger package?

How is the item on the right 50% bigger?

How much would you save if you bought 100 packs?

How much is the smaller package per ounce verses the larger package per ounce? It seems that you are getting jipped on the 50% bigger pkg.

What's the correlation coefficient for "buys bigger food" and "knows less math"?

Why does the bigger box not look bigger?

How much does it actually cost to make chicken broth?

Why are there cost aren't same because like they are both has the same food and company but not the same cost its zoo unfair

What would the price be if it was 80% bigger?

How big is each container?

how much is 5 of the 50% bigger box?

From the consumers vantage point, what is the ideal amount of chicken broth for a package?

Are the prices proportional to the volume

Why would anyone buy this

How does the price scale?

Which container of chicken broth is a better deal? Why?

Why is it twice the price?

which is the better deal?

Why is the price different?

Which one is better value?

Why does the broth labeled 50% larger look the same size as the regular one?

Why is is so much cheaper?

Why did the price increase so much?